Do you want to become a paramedic but you have no idea where to go? Have you been wondering if you can work outside Zimbabwe after completing the training? Are you also wondering if a nurse can train to be a paramedic?
Also Read:
Ambulance Technician Training in Zimbabwe – How to be an AT
Nurse Training in Zimbabwe – How to Become a Qualified Nurse
How To Become A Nurse Aide In Zimbabwe
Nurse Training Schools in Zimbabwe – All the Information You Need
Do you ask yourself what is harder; nurse training or paramedic training? Are you concerned about the salaries of a paramedic and a nurse working in Zimbabwe?
Do you want to know the scope of practice, paramedic versus nursing?
You are on the right platform, I will take you through all the processes and everything you need to know about paramedics in Zimbabwe. Yes, you can work as a paramedic everywhere in the world if you train in Zimbabwe.
A registered general nurse can also train to be a paramedic, and you become a paramedic nurse. Of course, becoming a paramedic is easily understandable and slightly cheaper than nursing.
 WHERE DO I GO FOR PARAMEDIC TRAINING IN ZIMBABWE
The following Emergency Service providers offer paramedic courses in Zimbabwe. You can make enquiries online to get more details on application dates..
Emergency Medical Rescue Ambulance Services- EMRAS
St Johns Ambulance
ACE Ambulance
WHAT IS PARAMEDICS
Paramedics are advanced providers of emergency medical care and are highly educated in topics such as anatomy and physiology, cardiology, medications, and medical procedures.
They build on their EMT education and learn more skills such as administering medications, starting intravenous lines, providing advanced airway management for patients, and learning to resuscitate and support patients with significant problems such as heart attacks and traumas.
How Do You Become a paramedic in Zimbabwe?
In order to become a paramedic, there are four (4) major steps that you will need to complete, which may vary from institution to institution:
Meet the eligibility requirements and prerequisites for attending a paramedic course.
Attend and successfully complete an approved paramedic education course.
Take and pass paramedic exams.
Obtain for certification and register with necessary boards. Then start applying for job vacancies.
WHAT ARE THE REQUIRED QUALIFICATIONS FOR PARAMEDIC TRAINING IN ZIMBABWE?
Requirements : Certified copies and originals
. Valid Advanced First Aid Certificate for non RGNs is an added advantage
. Five O' Level with a grade C or better including Maths, English   Language and Science.
. Valid driver's license.
. Certificate of fitness from your doctor (original certificate).
. Birth certificate.
. National I.D and passport size photo.
. Current practising certificate for RGNs.
. (AHPC) registration fee.
. Candidates must be at least 18 years old
CAN I ALSO WORK OUTSIDE ZIMBABWE AS A PARAMEDIC?
By becoming a paramedic you have just started the journey of working in the medical field. The medical field is the most special fields recognized in the world as it deals with human life.
Remember everywhere, everyone one way or the other you will require medical attention. It is natural and we can not run away from that fact. Therefore you are eligible to work everywhere in the world after completion of the paramedic course.
CAN A NURSE TRAIN TO BE A PARAMEDIC
Yes and I repeat "YES", If you are already a nurse, I am sure you don't want to miss this opportunity at all.
Paramedic nurses also known as flight nurses, these professionals provide emergency care for patients while en-route to a hospital via an aeroplane or helicopter. Nurses are sometimes required to lift or move patients, and precautions must be taken when dealing with potentially contagious diseases.
Steps to Become a Paramedic Nurse in Zimbabwe
Step 1: Earn a Nursing Diploma or Bachelor's Degree
Nursing programs often include training in pharmacology and patient care techniques for adults, children, and expectant mothers. Having a diploma or degree in nursing gives you an opportunity entry to paramedic training.
Step 2: Become Licensed as a Registered Nurse
Aspiring flight nurses will need to have valid practising certificates from Nurse's Council of Zimbabwe as well as obtaining Nursing Certificates. Some Institutions also require applicants to submit to background checks or fulfill other requirements.
Step 3: Get Work Experience
Some Institutions often require applicants to have anywhere from six months to two years of work experience in emergency nursing; employers could require even more. Positions in a hospital emergency department or critical care unit can help fulfill these prerequisites.
Step 4: Complete a Paramedic Course
Students in Paramedic course participate in classroom instruction and clinical experiences. Field internships are another common program requirement. Topics of study build on those found in an Emergency Care Basic course and include pre-hospital patient assessment, advanced airway management, and trauma care.
Step 5: Earn a Paramedic License
This entails passing written and practical examinations covering such topics as cardiac management, medication, and patient assessment skills.
PARAMEDIC VS NURSE SALARY IN ZIMBABWE
Generally in Zimbabwe general paramedics have low salaries than general nurses. If you become a paramedic nurse you earn more.
Below are charts which shows trends of salaries within the health field.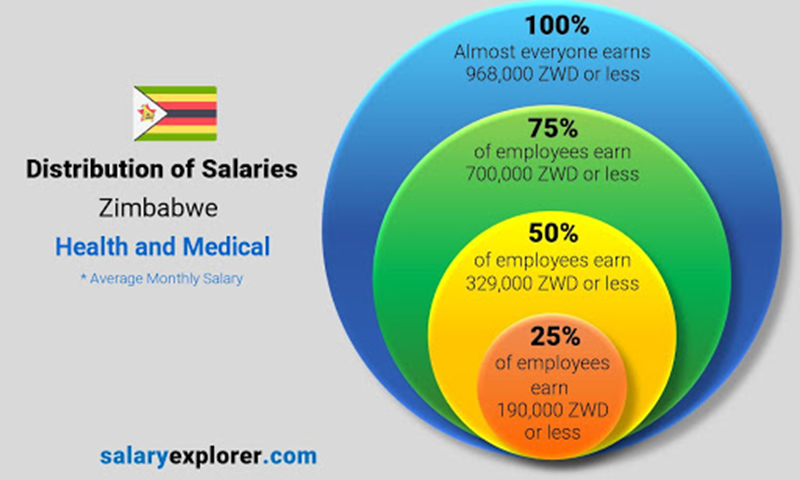 SCOPE OF PRACTICE BETWEEN PARAMEDIC AND NURSE
PARAMEDIC
Paramedics
Paramedics focus only on prehospital emergency care as a whole, so the scope may be more advanced in some areas than nurses (e.g. pleural decompression, intubation, surgical airways), but we have a limited set of skills.
Paramedic training focuses on repetition ( of particular medications and procedures) so that you can learn to function on your own
Paramedics are only with a patient for a very short period of time, so we can only do what is immediately necessary.
Education for the paramedic focus on knowing a certain amount of information inside and out, so that you can function within parameters without needing a physician's orders
Part of paramedic training/ working as a paramedic is learning to be confident… you are on your own with no one to help, you have to be extremely confident and portray that to you patients.
NURSING
Nurses have a more in-depth knowledge base that allows them to do a more thorough assessment. They have more knowledge of medications/ventilations/technical aspects of medical care. They are also more concerned with long term care of the patient.
Registered nurses often work in hospitals or outpatient facilities, where they provide hands-on care to patients by administering medications, managing intravenous lines, observing and monitoring patients' conditions, maintaining records, and communicating with doctors. They are also relied upon to give direction and supervision to nurse aides and home health aides.
Beyond the physical support and care they provide, registered nurses may provide emotional support to patients and family members; educate patients and the general public on disease management, special diet plans, and medical conditions; provide information on home care after treatment, and teach individuals how to self-administer medication or complete other self-care tasks.